John Russell born about 1758 &  Marie Josephte Bergeron married about or before 1795( MY GREAT GREAT GREAT GRANDPARENTS)
They had 7 children all born in New Carlsile Bonaventure Quebec

1. Margaret Russell born 1795 married john Beller or Blair
2. Mary Russell born 1797 married Richard Power
3. Jane Russell born 1800  possibly married William Power
4. John Russell born Aug,3,1802 ,married Elizabeth McMurray on June,11,1827 in Beresford New Brunswick
5. Martha Russell born 1805 married?
6. James Russell born 1808 married  Agnes Ann (Nancy) Howland
7. Peter Russell born 1812 married Rachel Howland or Rachel Horth


John Russell Born Aug, 3, 1802 New Carlsile Bonaventure Quebec & Elizabeth McMurray born about 1810 in Scotland, they married on June 11th 1827 in Beresford New Brunswick, witness were Tomas O'Connor and James Riddle. ( MY GREAT GREAT GRANDPARENTS)  they had 13 children born  Belledune New Brunswick

1. Elizabeth Russell baptized July, 25, 1830 sponsors were Frederick Cormier & Aontanette Cormier

2. Margaret Russell born June,25,1832 baptized September,22,1832 in Petit-Rocher N.B. sponsors were Nazarie Cormier & Emile Godin

3. john Russell baptized September,13,1836 ( possible he died for later another son is named john )

4. Rosanne Russell born 1835 1st married Nicolas Normandeau, 2nd married Pierre Baillanger

5, Martha Russell born?

6. Jane Russell born 1840 married William McDonald on September,10,1872 in Boston Massachusetts

7. Sarah Russell born about 1842

8. Isabella Russell born October,14,1844,baptized Oct,21,1844

9.James Russell born,November,16,1846,baptized Nov,22,1846

10. Caroline Russell baptized Feb, 5th, 1849 married William Gardner, 2nd married Alexander Stanton

11. John Russell baptized January 5th 1851 born 1850

12. Harriet Russell baptized June,15,1854 in Petit-Rocher N.B. sponsors were elie Godin & Marie Doucet,married john Boyle on Sept,27,1880 in Belledune N.B.

13. Robert Russell born May,11,1856 baptized jan,5th,1857 Petit-Rocher N.B. sponsors were Pierre Pelletier & luce Hache, 1st married Emma Curo, 2nd marriage Martha  Miriam Matthews.

Robert Russell born 1856 Belledune New Brunswick & Martha Miriam (Miriam) Matthews( MY GREAT GRANDPARENTS) they  had  6 children born Belledune N.B.

1. James Homer Russell born 1895 under surname Matthews
children of Robert Russell & Martha Miriam Matthews
2.john Aubrey Russell
3.Martha Alfreda Russell died as infant
4.Mary Rosella Russell born 1899 Belledune N.B.married Leon Lasnier
5.john Russell born 1903 Belledune N.B.
6.Joseph Harold {Harold} Russell born June,13,1904 Belledune N.B.

children of Martha Miriam Matthews and her 2nd husband john Russell
1.Parnel Russell
2.Eulilal born Jacquet River N.B.
3.Clara Russell born Belledune N.B.
Martha Miriam Russell {Matthews} her 2nd husband john Russell was  born  1875 Lorne N.B. was son of Samuel Russell &
Theresa Godin .john Russell & Martha Miriam Russell{Matthews}
married in 1906 in Belledune N.B.

Samuel Russell married to Theresa Godin he was son or grandson of James Russell born 1808 New Carlisle Bonaventure Quebec & Agnes Ann (Nancy) Howland


Joseph Harold (Harold) Russell born June,13,1904 Belledune New Brunswick married Flora Ann Gray in Belledune N.B. ( MY GRANDPARENTS)  she was daughter of Robert Gray & Elizabeth Pitre. They had 9 children born in Belledune New Brunswick,I do not rember all the birth dates for the 9 children so they might not be in order of their births

Joseph Troy Elmer (Troy) Russell born April,12,1934 Belledune New Brunswick married Maryann Taylor born Aug,22,1933 McAdam N.B. (  MY PARENTS)

Joseph Clayton Russell, married Beulah Guitard

Joseph Aubrey Russell

Joseph Robert Russell

John Roland Russell

Marjorie Russell

Mary Russell

Wanda Russell

Leola Russell, married Dale Banks


Children of Troy Russell & Maryann Taylor

Troy Terry Russell born March 16,1959          Canada

Joseph Vincent Russell  born October 16, 1960       Canada

Mikeal James Russell born October 19th, 1962         U.S.A.

Heidi Ann Russell born Feb 10, 1964  U.S.A.

Robin Taylor Russell born April, 10, 1971  Canada

Daughter of Maryann Russell (Taylor)

Margaret Elizabeth Fowler born June,19,1951 Canada  ( Half sister to Terry,Joe,Mike,Heidi and Robin Russell )
Last edited by Heidi on Tue Jan 26, 2016 9:25 am; edited 1 time in total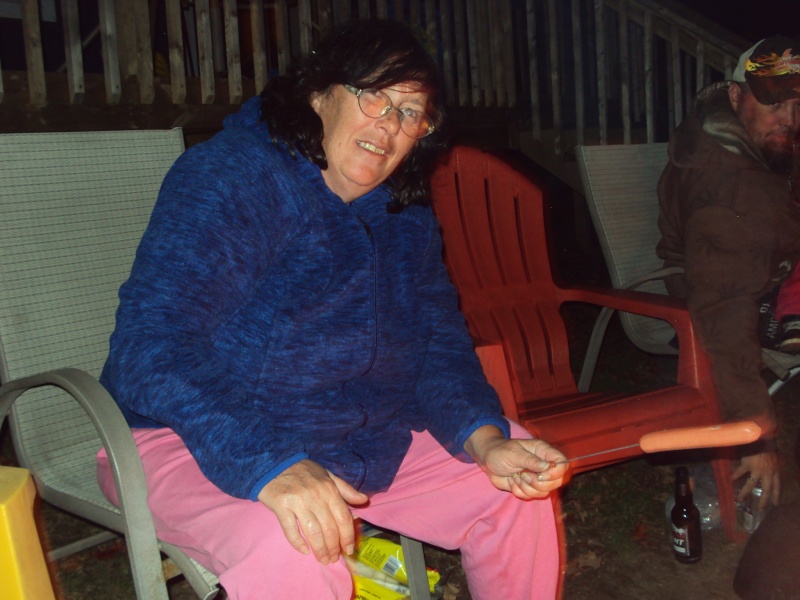 Top is myself and my baby brother Robin chilling at fire after rough day of fishing lol
bottom my dad his 2nd wife Freda Russell(Banks) and my daughter his place summer of 2011.
Last edited by Heidi on Mon Jan 25, 2016 10:14 pm; edited 1 time in total
My cousin Patty Underhill with her boys and my daughter and I summer of 2014 at her place in New Brunswick.
Left to right Robin Russell,Heidi Russell,Margaret Laking,Joe Russell,Terry Russell.  Margaret is our half sister she is our mothers first born.
Taken 2012 in New Brunswick

Similar topics
---
Permissions in this forum:
You
cannot
reply to topics in this forum